Valeria Lukyanova the most famous Russian woman on the Russian-language internet has become an internet sensation in her home country of Russia, claiming on her blog that she is real and she truly had what it takes to called as a real-life Barbie Doll contrary to numerous speculations that she is not really true.
Having a perfect body and a face of a real-life Barbie Doll, the world's most famous figures which sold billions of  dollars for the past few years. It was considered as the most well-known figure ever created by a toy company.
Valeria Lukyanova who currently lives in Stuttgart, Germany claimed that she was the perfect representation of a real-life Barbie Doll. With numerous controversies regarding his physical features, she still asserted that indeed she was true. She also knows how to speak in German, American English and Latin to prove that she is a human being.
In fact, Her doll-like features, bright blue eyes long blonde hair and 'perfect' body  tiny waist and large breasts, bears such a resemblance to the famed plastic doll make her look like a real life Barbie.
The 21-year-old Valerie Lukvanova as a Barbie doll look-a-like some cynical, web users have been speculating about whether or not she is real. In a spoof video posted on YouTube an animated version of the model undergoes surgery to enhance her already prominent assets goes viral already.
Others were kinder to the blonde beauty. One asked: 'Isn't unhealthy obsession on looking like a Barbie doll a part of her identity though?'
Photos have also been posted on her blog, on which she writes about making music and meditation. According to NMA.TV she is seeking out followers in France and elsewhere in Europe.
Spoof Video: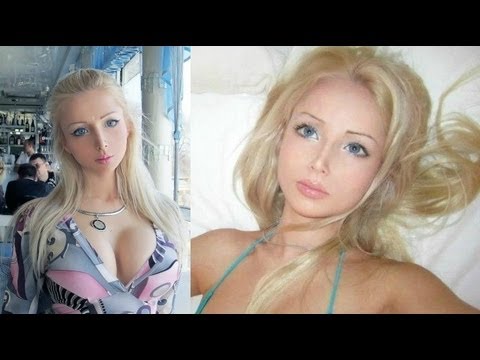 Valeria Lukyanova Photos: